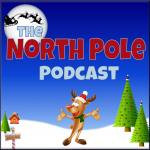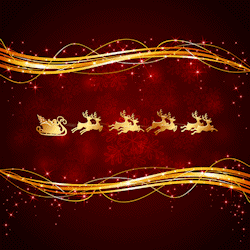 Breaking News! With a series of massive explosions the North Pole blew off the roof of the large top-secret building and launched a sleigh craft carrier — a huge floating airship.
WOW. It is big, big news — every bit as historic as Santa said it would be.
That Big Building with No Name is no longer a mystery. For months it has housed the construction of a giant "Sleigh Craft Carrier" – a ginormous air ship designed to launch Santa's sleigh and to serve as Santa's "North Pole in the Sky".
Watching that monster craft rise from the snow drifts and frozen tundra of the North Pole was a once in a lifetime event. I've never seen anything like it and I doubt I will ever see it again.
It is massive! Imagine pulling an entire city out of the ground and launching it into the air – that is just what Santa and his team at the North Pole has accomplished.
I cannot find the words to describe it. Not only does it have Santa's sleigh on its deck but it also has another workshop, another wrapping department, another tracking center – and ALL the elves that have gone missing for the past month or more.
Everything is on track, kids – the workshop on the air ship – which they are calling Jingle Bell 1 – is fully operational and has been for weeks. They've been working!
This is truly historic. Stay tuned for more exciting details and be sure to listen to the live news report of the launch of Jingle Bell 1 below.
Coming up next: Wild Cheers at the North Pole
Where it is Christmas Eve now: Italy
Listen to the live report of the launch of Jingle Bell 1:
[powerpress]
https://santaupdate.com/wp-content/uploads/2023/01/newlogo23f.png
0
0
Elf Ernest
https://santaupdate.com/wp-content/uploads/2023/01/newlogo23f.png
Elf Ernest
2014-12-23 16:00:04
2014-12-18 09:12:40
BREAKING NEWS: Sleigh Craft Carrier Launched