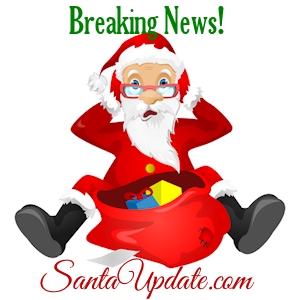 It isn't unusual to see Santa hard at work at the North Pole. But it is unusual to see him outside with big drawings, earth movers, dump trucks and talking with elf surveyors.
Just east of the Reindeer barns Santa has been working all week long. He has met with engineers, elf construction specialists, and lots of people from the North Pole Research and Development Department.
What can Santa be up to?
Nobody really seems to know.
However, I did see Elf Victor in a meeting with Santa on Monday morning. Then Elf Victor left the North Pole late Monday afternoon. He did not say where he was going but he did say he would be back soon.
If Elf Victor is up to something you can bet it has something to do with the reindeer.
Santa doesn't seem to be in a hurry with whatever this project is.
All I know is that it involves an awful lot of wood. The lumber has been arriving at the North Pole for days now and it is stacked high out by the Sleigh Barn.
In fact, the Sleigh Barn seems to be the headquarters for all whatever this special project is.
I will try to find out for you what is going on. But whatever it is, it is employing a lot of Santa's time and it is taking up a lot of space.
https://santaupdate.com/wp-content/uploads/2023/01/newlogo23f.png
0
0
Elf Ernest
https://santaupdate.com/wp-content/uploads/2023/01/newlogo23f.png
Elf Ernest
2017-06-07 16:30:27
2017-06-07 16:30:27
Santa is Building Something Big