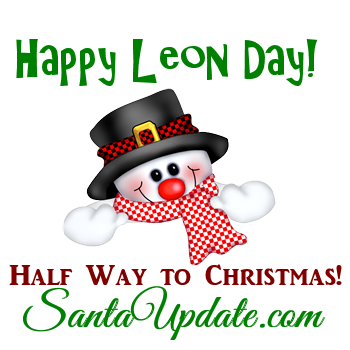 Happy Leon Day!
Big, big day here at the North Pole! It's the 24th and that marks 6 months until Christmas Eve – Yay! We're half way there.
Leon Day is officially a thing. All around the world millions are wishing each other a Happy Leon Day.
Leon is NOEL spelled backwards, just so you know.
For many, many people a mini-celebration of Christmas begins with this day. For some, the season itself starts.
Down in the South Pacific, for example, since they don't have winter weather at Christmastime they celebrate a little Christmas now…when it IS winter weather for them.
Leon Day means they bring out their sleighs and their sleds. They light their trees and build snowmen. And yes, some wish each other a Merry Christmas.
Here at the North Pole, it is summer. Which means that we still have snow, of course. Just not much as we usually do. There is grass in some spots. And a few precious hours of bright, warm daylight.
Leon Day at the North Pole is Backwards Day. We do everything backwards today.
We sing Christmas carols backwards. We hang candy canes upside down. We even walk backwards today.
It is such a silly day. A lot of fun!
Speaking of fun, be sure to check in here around the 14th or so of July. For ten whole days we celebrate Christmas in July here at the North Pole. It's a summer party you don't want to miss.
https://santaupdate.com/wp-content/uploads/2023/01/newlogo23f.png
0
0
Elf Ernest
https://santaupdate.com/wp-content/uploads/2023/01/newlogo23f.png
Elf Ernest
2017-06-24 00:01:40
2017-06-14 22:21:50
6 Months Until Christmas