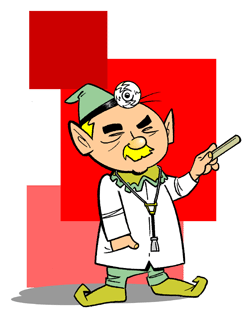 With Operation Merry Christmas underway Elf Dr. Spock is worried.
It seems that several elves have come down with the Bah Hum Bug Virus and he is afraid that the number is going to grow. I sat down with him in his office a few hours ago to see exactly why the Bah Hum Bug virus is so bad.
"Well the real problem is that we don't know what causes it" Dr. Spock said. "Plus there is no known cure for it. We have tried several things over the years but nothing has proven to be 100 percent effective."
I asked Dr. Spock what exactly the Bah Hum Bug virus does to elves.
"It takes away the elves Christmas spirit" Dr. Spock told me. "That is what motivates them. Their Christmas spirit is what drives them to get out of the bed in the morning. Its what drives them to do their jobs. Its what makes an elf an elf. With out their Christmas spirit, an elf has nothing."
I asked Spock what would happen if it did spread.
"Well the good news is this strain of the virus is relatively mild." Dr. Spock replied. "The elves are going to feel pretty bad for about a week though. We can give them medicines to help treat the symptoms but it really just has to run it's course." Spock replied. "So if the outbreak does spread it could mean that a lot of the North Pole work force is out of work for at least 7 days. That could be disastrous this time of year."
Looking for some good news I headed over to the post office to check in with Elf Hugo. When I walked in, I immediately noticed that there was room to walk and I could actually see Hugo on the other side of the room.
"We're almost completely caught up" Elf Hugo told me. "Elf Victor's staff and my staff have been working around the clock but we've managed to get it done. Now it's up to Bernard to make all of the toys before Christmas Eve."
With the exception of the worries about the Bah Humbug Virus, Operation Merry Christmas seems to be in good shape.
-Elf Ernest
https://santaupdate.com/wp-content/uploads/2023/01/newlogo23f.png
0
0
Elf Ernest
https://santaupdate.com/wp-content/uploads/2023/01/newlogo23f.png
Elf Ernest
2012-11-26 05:43:41
2012-11-25 22:48:47
Bah Humbug Virus Hits the North Pole