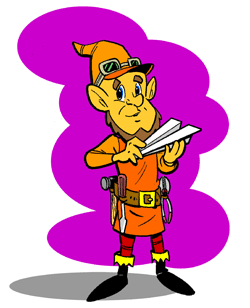 Elf Quinton has been unusually secretive this year with his plan for Santa's new sleigh. So I headed over to the sleigh department early this morning to see if I could get some hints out of him.
When I arrived in the shop Quinton came running over and said "I've been wondering when you would come bug me for details on this year's sleigh."
I told him that I was just doing my job and that the rest of the world was curious about what was happening. Quinton said okay and told me that he would share a few things.
"That last couple of years we have been plagued by breakdowns and I'm not going to let that happen this year." Quinton said. "We're not going to try any new ultra light weight materials. We're not going to try any new state of the art electronics. This year's sleigh is going to be all about reliability. We have gone back to technology that has been tried and proven. Santa has showed that he doesn't need the fastest sleigh in the world to get his job done. He just needs one that won't break. Now that doesn't mean that speed isn't important because it is. We just know that Santa doesn't have to go as fast as we have been trying for."
I asked Quinton what Santa thought of this new philosophy.
"Santa is completely behind it" Quinton replied. "We sat down after Christmas last year and went over what happened with the sleigh. We both agreed that we were just trying to push the limit a little bit further than current technology would allow. So we decided to error on the side of safety this year and wait for technology to progress before we try to go out there and set a new record. Santa told me how fast he needed to go and that's what we're going to give him"
So it sounds like Santa's sleigh is going back to a more classic design this year but if I know Quinton, he's still got a few tricks up his sleeve.
-Elf Ernest
https://santaupdate.com/wp-content/uploads/2023/01/newlogo23f.png
0
0
Elf Ernest
https://santaupdate.com/wp-content/uploads/2023/01/newlogo23f.png
Elf Ernest
2012-11-27 05:49:56
2012-11-25 22:51:20
Elf Quinton Promises No Surprises With Santa's Sleigh