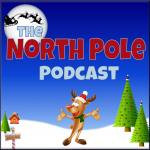 I went over to Santa's Stables today and talked a little while with Elf Victor, who as you know is the head of Santa's Reindeer Operations. I was looking for a little more information about the spotlight reindeer of the day, Dancer.
Dancer is actually a pretty shy girl.
In fact, I actually tried to go talk to her. Of course, I cannot communicate with reindeer like Santa can (he actually gets the reindeer to talk to him) but I like reindeer and I wanted very much to learn something new about Dancer from Dancer herself. But she is so bashful that she just kind of skittered away from me when I went to go see her.
Victor told me that Dancer is very creative and, just like creative people, she is very moody. Most of the time she just likes to be alone. She loves music and, yes, she loves dancing.
She has long slender legs and because of that some of those who see Dancer think that she is fragile. But Santa says that Dancer is one of the fastest reindeer on the team and that she has incredible stamina. That's because she trains all the time and most of the time that includes dancing. She loves music and she loves art.
Take a listen below to the report Elf Crash filed about Dancer last Christmas Eve.
https://santaupdate.com/wp-content/uploads/2023/01/newlogo23f.png
0
0
Elf Ernest
https://santaupdate.com/wp-content/uploads/2023/01/newlogo23f.png
Elf Ernest
2016-07-12 03:00:42
2016-07-10 16:18:51
Santa's Reindeer: All About Dancer