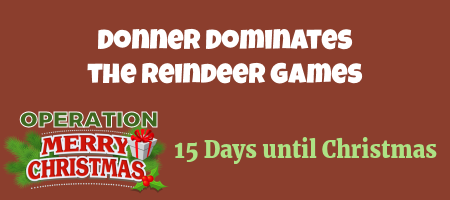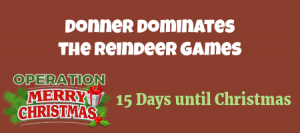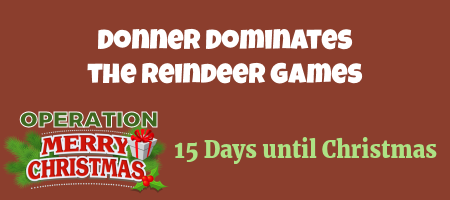 Happy Monday, all!
It was an epic weekend at the Reindeer Games at the North Pole and in the end a familiar name took the top prize — Donner!
Donner has long been Santa's lead reindeer. This weekend at the games he showed why.
All week long last week the buzz was all about a young reindeer named Brinley, who did very well in nearly every competition she entered. But Donner was right there, qualifying with her in event after event. As the semi-finals approached Donner started to make his move, dominating first in the short runs and then completely soaring in the high jumps.
It seemed that as Donner got stronger, Brinley seemed to wear down a little bit.
She still did very, very well and the reindeer experts at the North Pole were very complimentary of her. Even Santa sent a message to her handlers congratulating them on the fine job they did with her training. She may be a force to deal with in the years to come and there are rumors that Santa will place her in a special role somewhere this Christmas.
Donner, by the way, already has a special role. He is the leader among the reindeer. He is also Rudolph's father, and Rudolph is always very clear in insisting that Donner is and always has been Santa's lead reindeer.
The games for Donner were just another in a long line of victories. He has won so often I cannot tell you know how many championships he owns. It has been several years since he last won but he always competes very well and is usually predicted to be among the top performers.
Donner summered in Austria, where he is from, and trained year round this past year. Santa was quite surprised when he returned in September looking a little heavier and acting a little friskier than normal.
Santa also sent his congratulations to Donner and his family.

https://santaupdate.com/wp-content/uploads/2018/12/121018.png
200
450
Elf Ernest
https://santaupdate.com/wp-content/uploads/2023/01/newlogo23f.png
Elf Ernest
2018-12-10 00:12:33
2018-12-09 21:23:08
Donner Wins the Reindeer Games