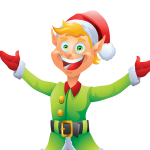 He is sensational, he's loud, he's enthusiastic — he's Elf Red Stocking, veteran news reporter and passionate Santa fan.
Elf Red Stocking is an emotional voice and an eager presenter of news relating to all things Santa.
When he is not reporting the news, Red spins the Christmas tunes you hear on Kringle Radio. With his outrageous wit, undying devotion to Santa Claus and his superior interviewing skills Red is one of the more popular voices behind North Pole radio news.
Listen to this suprising report from Red late in Santa's flight in 2017:
Red works year round as as DJ at Kringle Radio where he hosts the popular morning radio show known as Out of Bed with Red. On Sundays Red hosts a dating show on Kringle Radio called Single Mingle on Kringle that matches the lonely hearts of the elf community. Red has dozens of faithful marriages to his credit. Red lives in downtown North Pole Village and has three hamsters named Larry, Curly and Edward R. Murrow.