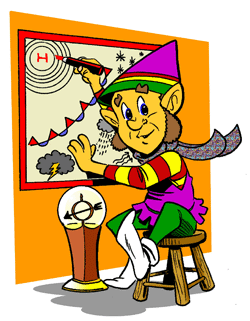 Elf Seymour Snow now heads the Weather Department at the North Pole.
Seymour gets a lot of jokes about his name, but that's his real name! And he just loves doing the weather.
Like his predecessor, Seymour is a scientist who specializes in the weather of the North Pole. His specialty is long-range forecasting. He can see a storm coming months in advance.
Seymour has worked for years in the Weather Department at the North Pole and he has been a fixture on North Pole Radio News, having shared in broadcasting duties of Christmas Eve weather news on Kringle Radio. Listeners for years have commented on his timely reports.
The Weather Tracking Department researches the global weather patterns and helps Santa devise a flight plan. While Santa has never gone the same way on his flight from one year to the next you can be assured that every path he takes is planned out well in advance by the Weather Tracking Department and is approved by Elf Seymour personally.
His department also provides communication with the sleigh and updates the world every hour on the progress of Santa's merry trek.
The Weather Department has thousands of elves working around the world at monitoring stations and working with governments to clear airspace and gain clearance for Santa to fly in the skies. It is a very big job that requires a lot of people.
Elf Seymour is married with sixteen children — eight sets of twins! He and his large family live on Frost Berry Ct in North Pole Village, right behind the school, where all the Snow children attend. The Snow family is very active in the community and has one of the largest sleighs at the North Pole.