Greetings, friends! Today marks the 8 months until Christmas milestone and with all the snow we're getting it most certainly feels like Christmas around here.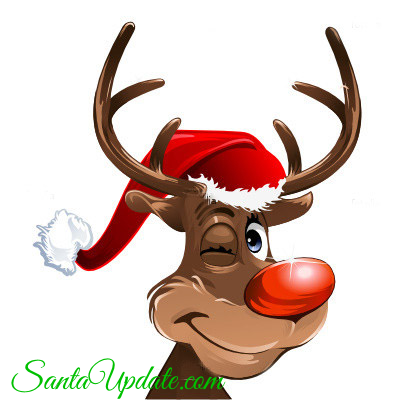 Elves are still hidden away in their home workshops this month, as the Toyvember that Santa called some months ago continues. This is now the longest ever Toyvember ever held.
I am hearing rumors that the new toy ideas this time around are outstanding. In fact, engineers in Santa's workshop speculate they will be working on new toys for years based on this year's Toyvember.
How much longer will it go on?
Well, that's hard to say. Santa isn't saying a lot about it but the production capabilities in the Workshop and in the Wrapping Department are kind of working as hard as they can, even with the limited staffing caused by Toyvember. The problem isn't elf power, it's supplies. Due to the pandemic and other worldwide issues, supplies are slow coming to the North Pole this year.
It is too early for any kind of panic, but Santa is monitoring the situation closely.
About the only thing of note or concern right now is the recent reports about Santa's sleigh. It was announced months ago that the sleigh this year would just use last year's design. Santa will get a new sleigh built this year but it will pretty much be just like last year's sleigh. And because of that there was not a strong feeling about the need to do a lot of test flights this year.
Well, that's now all being reconsidered after a warning was issued from the Department of Redundancy Department.
It is the job of that department to make sure mistakes are not made. Their staff reviewed the plans for Santa's sleigh this year and issued the warning, saying the whole plan needs reconsideration.
It is my understand that Santa himself is in on this now and he's meeting with the build team at Research and Development and there might, indeed, be a new plan put forward. But until we hear more about this the calendar still reflects that test flights of Santa's new sleigh will begin in September.
We will keep you posted, of course.
Any new talk of sleighs always brings up questions about Santa's reindeer and when they will return.
Some are asking if they will be at the North Pole for Christmas in July.
The answer is likely "no", they won't be here. Most of the time we don't see the reindeer starting to coming back until late August at the earliest. Of course, if Santa wants them back sooner they will of course come back.
But for right now, there are only a few reindeer at the North Pole.
Until next month, friends!

https://santaupdate.com/wp-content/uploads/2022/04/042422.png
320
845
Elf Ernest
https://santaupdate.com/wp-content/uploads/2023/01/newlogo23f.png
Elf Ernest
2022-04-24 00:01:11
2022-04-15 12:27:17
8 Months Until Christmas