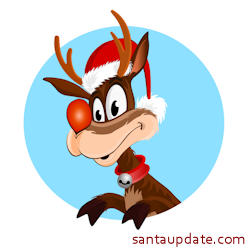 When people think of Santa's reindeer they usually think of the nine members of Santa's A-team. Most people don't realize that Santa actually has thousands of reindeer that help at Christmas time.
Many of these reindeer don't live at the North Pole all year like the A-team though. They head down to areas south of the Arctic Circle where food is more plentiful and there is plenty of room to run and exercise. Over the last few days though they have all returned back here to the North Pole for the start of the annual reindeer games. There are thousands of reindeer now at the North Pole.
Santa opened the ceremonies this morning with a short speech thanking all of the reindeer for their hard work throughout the year. "I know that being one of my reindeer is hard work" Santa told them. "You have to adhere to a strict diet and remain in top physical condition. Flying isn't easy and it requires a lot of dedication on your part. I just want to let you know that I appreciate that hard work and that I couldn't do my job without you. No jet engine or cargo plane could do the things that you do and without you, there would be a lot of sad children on Christmas morning."
Santa then wished all of the reindeer good luck and said a quick prayer asking for the safety of the reindeer and all of Elf Victor's staff while the games were going on. Then Santa and Victor stepped up to the red ribbon that was stretched across the activity field and cut it in half, officially opening the 2012 reindeer games.
After the ceremony, I managed to grab Elf Victor for a few minutes while all of the reindeer filed onto the activity field to see what kind of competition's the games will consist of this year.
"There are four categories we focus on" Elf Victor told me. "Speed, endurance, agility, and strength. We'll have a variety of races to measure the reindeer's speed and endurance. Then we will move on to sleigh pulling competitions to measure their strength. Finally we will have an obstacle course and takeoff and landing tests to measure the reindeer's agility. After all of the tests are complete we will crown an overall winner and a winner for each category. Then I will sit down with my staff and look at all of the reindeer's performances. We will assign them jobs on Christmas Eve based on their strengths. This should help us ensure that we don't have any problems with the reindeer during Santa's flight."
-Elf Ernest
https://santaupdate.com/wp-content/uploads/2023/01/newlogo23f.png
0
0
Elf Ernest
https://santaupdate.com/wp-content/uploads/2023/01/newlogo23f.png
Elf Ernest
2012-11-30 09:22:11
2012-11-30 09:22:11
Santa Opens the Reindeer Games