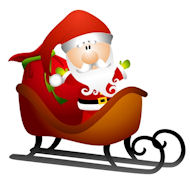 Elf Quinton rolled out Santa's new sleigh for this year from the Sleigh Barn. It is an impressive sight — the most beautiful sleigh I have ever seen. The red paint was so shiny that it looked like it was actually emitting its own light. Even standing still it looks like it is moving very fast. Everything was perfectly curved to eliminate any straight lines and make it more aerodynamic. It was exactly how Elf Quinton had described it to me: classic but with a modern twist.
Elf Quinton and his staff rolled the sleigh down to the runway where Elf Victor and his team were waiting with the entire A-team of Santa's reindeer. I'll admit that I was shocked to see the entire A-team there. Usually Santa only takes two reindeer with him on the first test flight. That way he can get a good feel for how the sleigh is going to fly before taking it to full speed with all nine reindeer. As I looked around I saw Santa walking down the street towards us, so I hurried over to ask him why the change this year.
"There's nothing new on the sleigh this year" Santa replied. "The design has been tweaked a bit but it's so close to what we've done before that I don't have any concerns with how it's going to fly. In fact I trust it so much that I'm taking it down to meet some children in Europe instead of just flying it around the North Pole. I just hope Elf Quinton doesn't get mad at me if she comes back a little dirty."
With that Santa made a quick walk around of the sleigh before hopping in and taking off on what I'm sure will be the fastest first test flight of a new sleigh in the North Pole's history.
Don't forget that you can help Santa name this Sleigh. Just click here to turn in your suggestion.
-Elf Ernest
https://santaupdate.com/wp-content/uploads/2023/01/newlogo23f.png
0
0
Elf Ernest
https://santaupdate.com/wp-content/uploads/2023/01/newlogo23f.png
Elf Ernest
2012-12-05 01:02:23
2012-12-02 11:08:27
Santa Test Flies New Sleigh