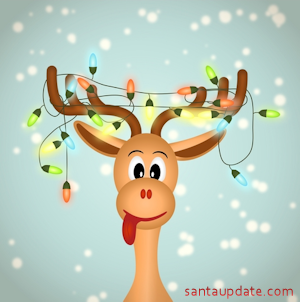 The annual reindeer games are in their fourth day here at the North Pole and the competition this year is pretty fierce. We several days remaining there are a number of young reindeer who could emerge as a new leader amongst Santa's reindeer. When I went to visit Santa's Stables a little while ago I noticed how very tired all the reindeer seemed and Elf Victor explained:
"They just got done competing in the 1000 mile speed competition. It's by far the longest and most grueling of the races during the speed portion of the games. All of the reindeer did really good this year in it though. I was really impressed. Usually we get several drop outs in the second half but every single reindeer finished the race this year. I'd have to check the records but I think this is the first time that has ever happened."
The reindeer games are not only a competition to honor the most talented of Santa's reindeer but also they are a process whereby Santa's reindeer are assigned critical duties on Christmas Eve. Santa employs thousands of reindeer in the Christmas effort, though most the world knows mostly of his nine reindeer that just pull his sleigh: Dasher, Dancer, Prancer, Vixen, Comet, Cupid, Donder, Blitzen and Rudolph. Other reindeer work as decoys, weather scouts, shuttle transfers, mechanical support or security on Christmas Eve. Some even work on what Santa calls "special missions" every Christmas Eve. The reindeer games condition and train the reindeer for Christmas service.
Usually the reindeer games showcase a certain reindeer who excels above the others. Elf Victor said there doesn't yet appear to be a clear standout. Elf Victor also said that his staff is watching the reindeer for any sign of contracting the Bah Humbug Virus that is affecting things so badly in Santa's Workshop but so far all signs indicate nothing but good health for the reindeer. "We've actually been out in the field working the games," Elf Victor said. "That is pretty far away from Santa's workshop. We think we're ok for now."
— Elf Ernest
https://santaupdate.com/wp-content/uploads/2023/01/newlogo23f.png
0
0
Elf Ernest
https://santaupdate.com/wp-content/uploads/2023/01/newlogo23f.png
Elf Ernest
2012-12-04 02:51:56
2012-12-02 11:01:18
Competitive Reindeer Games Show Talent