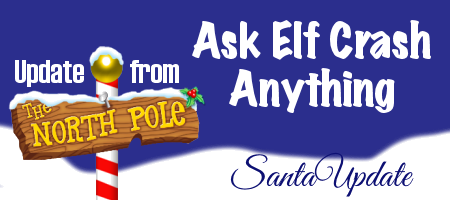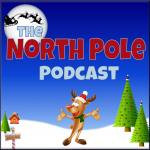 We are pleased to announce the return of a very popular feature that we call Ask Elf Crash.
Elf Crash Muphy, as you know, is our Eye-in-the-Sky reporter on Kringle Radio.
His job every Christmas Eve is to follow Santa in a chaser sleigh and report on his location. Crash will be taking up this assignment again this year, for his fourth tour of duty following Santa.
A couple of years ago we had Crash answer a few questions from Santa fans and he would answer them on Kringle Radio and we, in turn, would post them here on Santa Update. It proved to be a very popular feature.
Why are Crash's answers different than any other elf at the North Pole?
There are two reasons.
First of all, Crash is the only elf who gets to see Santa in action up close all over the world. He talks with Santa a great deal during the flight and so he's able to answer some of the more interesting questions that kids tend to ask.
But second I think it is just Crash himself and how he expresses himself that folks really enjoy. He gets a lot of mail here at the North Pole and that comes, I think, from being a very honest and candid reporter. People just trust him.
Here's a question that Crash answered a couple of Christmases ago just to give you a sample of what to expect in the months ahead:
We know that Crash cannot answer every question that comes in. We usually just put them into a big box and then Elf Frank Myrrh will pull one out at random to have Crash answer. That spontaneity also helps to make this a very good feature.
So click here to submit a question for Crash, then check back here come September 24th when Frank and Crash return with regular radio news updates.
== Elf Ernest
https://santaupdate.com/wp-content/uploads/2017/08/082017.png
200
450
Elf Ernest
https://santaupdate.com/wp-content/uploads/2023/01/newlogo23f.png
Elf Ernest
2017-08-20 20:01:23
2017-08-20 20:01:23
Elf Crash to Take Questions Again