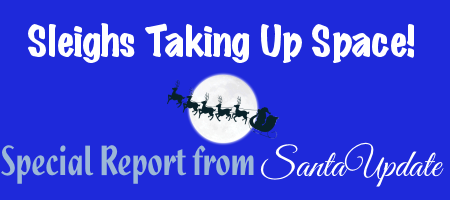 Hi ho!
A couple of months ago I shared with you about the big project at the North Pole that Santa began – thousands of sleighs being built and painted different colors.
Remember when I told you about the big barn Santa built to store those sleighs?
Well, that barn is now full and they are starting to stack these sleighs outside like firewood.
There are sleighs everywhere and they are taking up valuable space.
They cannot stay outside very long. They are made of wood.
Santa has always said that a good sleigh has to be treated like a flower. It can be outside but if you leave it alone the weather will ruin it. Santa's sleighs always stay inside the sleigh barn when he isn't using them.
So if Santa were here I know he would not be happy to see all these sleighs sitting outside.
Something needs to be done. Elf Quinton tells me he has to keep building the sleighs. He has orders.
For now, he is planning to use one of the warehouses that the boys in the workshop usually use to store the sleighs.
But Elf Bernard isn't happy about that. He needs that space because the workshop is busy making things and they need space to store things too.
Something has to give.
I'll ask Mrs. Claus what the deal is. She is the only one who seems to understand what is going on around here these days.
https://santaupdate.com/wp-content/uploads/2017/08/081917.png
200
450
Elf Ernest
https://santaupdate.com/wp-content/uploads/2023/01/newlogo23f.png
Elf Ernest
2017-08-19 00:26:31
2017-08-18 21:32:06
Extra Sleighs Taking Up Valuable Space