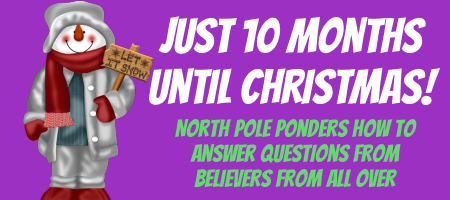 Hi everyone!
Today marks the ten month mark to Christmas and you wouldn't believe how busy things are here at the North Pole.
Santa's new workshop plans have created a big hole in the calendar. He thinks some time in July his new workshop will be finished so they have been trying to figure out how to make the change from the old workshop to the new workshop. Some think it can be done without shutting anything down. Others think that all work on making new things will have to stop for a few days so that they can move stuff like tools and materials.
There is a big ten-day block of time marked off on the calendar and Santa hasn't yet told us what that time is for or how all this will work. That has some elves worrying.
Elves tend to worry when they don't know the plan.
But have no fear. If there is one thing Santa is an expert at it is making plans. I'm sure he has it figured out in his head and will tell us soon.
Here in my little world we have been making plans too.
I had my annual review with Santa. That always makes me a little nervous. I want to do my job well and I try very hard. But it is hard sometimes to hear where things might have gone better and I can think of many ways where we shared the news last year and it could have been better.
Don't worry. Santa was very kind to me in my review.
But his big suggestion — and I think it is a good one — is finding new ways to answer all the questions that people send in.
We have tried many things in the past, even using elves like Ed Zachary and Crash Murphy in the effort. But we are exploring some new things and new ways to do that for this year.
I can't tell you yet what those news things will be.
But I promise. We will have MORE answers to MORE questions this year than any year we have had in the past. We're working very hard on that right now and will be making some announcements later this year.
So stay tuned!
Until then, merriest greetings from the North Pole!
https://santaupdate.com/wp-content/uploads/2018/02/022418.png
200
450
Elf Ernest
https://santaupdate.com/wp-content/uploads/2023/01/newlogo23f.png
Elf Ernest
2018-02-24 00:01:00
2018-10-30 21:39:56
10 Months Until Christmas