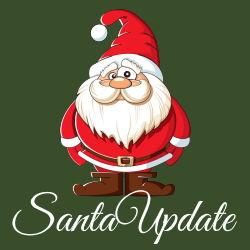 Hello and Happy St. Nicholas Day!
Did you know there is a day to celebrate St. Nicholas? It falls on the 6th of December every year. In some places in the world the day features a parade where St. Nicholas is remembered.
Contrary to the beliefs of some, St. Nicholas is NOT Santa Claus. St. Nicholas is a man that Santa very much admires.
St. Nicholas lived nearly 2000 years ago and he was a very famous Bishop. If you think about it he has a very incredible story.
In a time when there was no Internet, no cameras, no cell phones and no modern news services St. Nicholas because famous in places all over the world. Back in those days very few people were famous like St. Nicholas. Yet, by the time he died, he was known so far and wide that his name was spoken of in many languages.
Why was St. Nicholas so famous?
He was famous because he help people in miraculous ways. He once fed thousands of people with food he secured from boats visiting the local harbor. Another time it is said that he saved three children from a terrible mean person. He was likely most famous for trying to help a family by bringing them small amounts of money in the middle of the night without them knowing he was there.
Some call these stories of St. Nicholas legends or myths.
But how do you explain that people knew of St. Nicholas back in his day and that so many have remembered him since?
St. Nicholas did things for people and people talked about it. That is how useful he was and how helpful he was to other people.
Santa loves St. Nicholas because he went about doing good. Santa always says he wants to be more like St. Nicholas.
Today is a day of service at the North Pole. There are lectures and classes being held to teach people here about St. Nicholas. But Santa also believes we need to honor St. Nicholas by trying to be like him.
So he directs many activities to help other people. There are food drives, money collections, visits to the sick and the elderly. In whatever ways possible Santa tries to focus everyone here at the North Pole on the service of others. It's a special day.
Wherever you are we hope you take some time to learn of St. Nicholas and try to do something nice — anonymously — for someone else. Just like St. Nicholas.