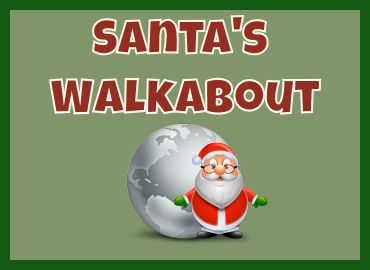 (Special to the North Pole) Hi, friends. I apologize for being so long in writing since my last letter. Frankly it's hard to find stamps out in the wilderness we have been in.
I told you in my last post about fishing with Santa. Since then I can tell you we have fished a great deal. We have been camping a lot.
It has been cold. But we have not seen as much snow as we thought we would. There has been some. But we have also had some really nice weather, too.
Some days we hike for miles without seeing anyone. We spent a four day stretch during good weather traveling along a high mountain range in Northern Canada where we did not see anyone. Santa does not like to do that because he says the biggest part of this adventure is to meet and talk to as many people as possible. But we had to cover some distance and the quickest route was in those mountains and not very many people live there.
But around Valentine's Day we stumbled  upon a small village known as Victoria's Knoll. It is a small but beautiful place and we stayed there for two days. It was really nice. Santa has a friend there. His name is Walter. He is a wood worker by trade and he lives in a small but beautiful cabin in the woods.
I'm not going to kid you. It was nice to sleep inside for a few nights and to eat good meals by his warm fireplace. Walt's place is very cozy and he has an amazing workshop.
The best part of our visit to Victoria's Knoll was meeting a school teacher there by the name of Mrs. Willets. She runs a small school teaching grades 1 through 8. She has a total of 13 students.
Walt introduced us to Mrs. Willets but, of course, did not let her know right away who we were. He told her we were "just friends". But Mrs. Willets is really smart and after talking with Santa for just a couple of hours she figured out who he was. Of course, she's a school teacher and she is like many school teachers. She follows along with SantaUpdate.com and she knows that Santa has been on walkabout.
So figuring out Santa was a visitor to her little village she asked if he would be willing to come teach at her school.
Can you imagine what it would be like to have Santa teach your class for a day?
Santa agreed to do so but only if Mrs. Willets promised not to tell the children who he was.
You see, Santa says that people act differently sometimes when they know they are talking to Santa. Part of the reason he shaved his beard before this trip was so that people would not recognize him. Santa wants to just wander into towns and villages and meet people as a regular person. He wants to talk to them as a stranger. He wants to see what they really think and what they really feel.
So Santa was very excited to meet the children in Mrs. Willets class. This was the first real opportunity on this journey to do such a thing.
Santa was introduced as a many who teaches history and science. He taught them a lesson about the exploration of Canada by 16th century Europeans. And he taught them how to use potatoes to generate electricity. The kids really enjoyed that demonstration and learning that lesson.
We also happened to be there on Valentine's Day. Santa and I both helped to make Valentines. They each got a Valentine from both of us. And we each got Valentines from each of them. I consider them neat souvenirs of this journey.
I will tell you this: watching Santa teach those lessons at Mrs. Willets school showed me a new side to Santa. It taught me more about why Santa goes on walkabout. I am so very glad we are doing this.
We left Victoria's Knoll and headed once again into the mountains. But Santa told me not to get used to the mountain views. He said that soon we will be seeing a lot of the ocean.
I'm not sure what lies ahead for us with that. But when I have more to share I will tell you.
Until then, friends!