St. Nicholas Day is being celebrated today all around the world, including at the North Pole.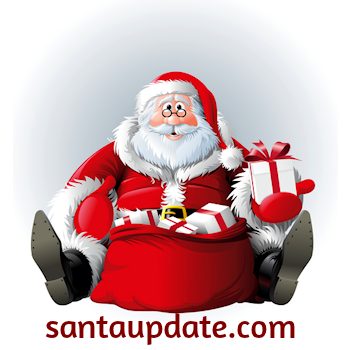 St. Nicholas is someone many people confuse with Santa Claus. In fact, in today's North Pole Radio News report (in the player below), Elves Frank and Crash talk a bit about that and why it bothers Santa when people compare.
Santa is a big admirer of St. Nicholas and he considers St. Nicholas a hero.
But Santa Claus and St. Nicholas are not the same person. Santa says he wants to try to be more like St. Nicholas.
St. Nicholas was a real man who lived hundreds of years ago. He went about doing good, serving people every day of the year. He was kind to the poor, the abused, and the forgotten of society.
There are stories about St. Nicholas that have circulated for many, many years. Some of them are true, some are legend, and some are entirely myth. But the fact he existed and was a real person has been proven. The fact he was so well known around the world is something of a miracle considering that the time in which he lived the stories about him could only be shared by people on at a time.
More than 2000 churches in the Old World still bear his name. That made him a man of incredible fame during his lifetime.
What did he do that made him so famous?
He was a Bishop, meaning that he served the people of his church and community for many years. There once came a time of famine and people could not get food. St. Nicholas, who lived in a port city, went to the captains of the ships anchored in the harbor of the city and asked each of them to share just a small portion of their grain so that the people could eat. Nicholas promised the captains of the ships that their cargo would still be considered completely shipped upon arrival if they just shared a portion with the people.
The ship captains agreed to help and the people were fed. Miraculously, just as St. Nicholas had promised, each captain was able to deliver their remaining grain and they were credited with full deliveries.
St. Nicholas was always giving to the people in this fashion. He never wanted credit for his giving and frequently went in the dark of night to deliver things anonymously. He wore bright red suits with white fur trim, and this is just one reason why some confuse him with Santa Claus.
Santa enjoys these stories of St. Nicholas. St. Nicholas is so famous that this date, December 6th, is celebrated around the world to remember him.
At the North Pole we remember him too. There are lectures today about him and, of course, Santa talks about him all the time. Celebrating St. Nicholas on December 6th is a North Pole tradition of Christmas that Santa and the elves enjoy very much.

https://santaupdate.com/wp-content/uploads/2021/12/120621.jpg
320
845
Elf Ernest
https://santaupdate.com/wp-content/uploads/2023/01/newlogo23f.png
Elf Ernest
2021-12-06 00:01:39
2021-12-05 20:31:46
St. Nicholas Day Celebrated at the North Pole