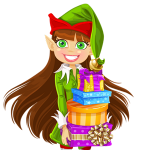 Elf Holly Berry began as a sleigh traffic reporter years ago and has since become a steady and regular voice of North Pole Radio News.
Holly has traveled the world to report on Christmas and has interviewed some of the world's foremost experts on sleigh flight.
She is a professional reporter with great skills, and rarely gets flustered in her reports every Christmas Eve.
Take a listen to one of her reports:
Holly now lives year round at the North Pole and operates a popular shop in the village called Holly's Berries featuring organic fruit from around the world.