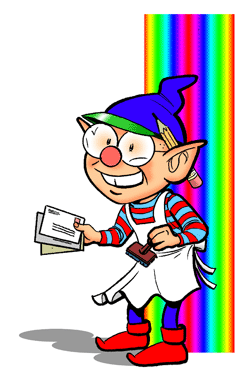 Elf Hugo Slavia is one well traveled elf. For the past several seasons he has been the head honcho in the Wrapping Department. And if there is any job bigger at the North Pole than that it is the new job Elf Hugo has taken as the Postmaster General at the North Pole Post Office.
The North Pole Post Office demands a leader who is organized and cheerful and full of energy.
Elf Hugo is all of these things.
But Elf Hugo is also a constant worrier. He has very high standards and will do things over and over until a job is done right.
His heart is so big that he shudders to think that anyone might be disappointed by his own personal efforts. He works very hard to train the elves he works with to be the same way. This kind of attention to detail is exactly what the believers of Santa Claus around the world demand.
Elf Hugo is still quite young. He is not yet married but he lives with 4 cats — Huey, Duey, Louie and Louie-Louie — and he enjoys playing golf, hunting rocks (Hugo believes in catch-and-release) and holding parties.