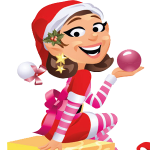 Elf Roz reports from exotic locations around the world and brings an international flare to our radio broadcasts.
Roz speaks many languages and has no problem reporting from almost any location or situation.
Elf Roz is a fantastic interviewer and gets quickly to the facts in her reports. Here is a sample:
Like all the elves on our Christmas Eve broadcast Roz receives a lot of email with questions. The most common question she receives is why we do not share her last name. The reason is very simple.
Roz is a chocolatier who travels the world sampling, purchasing and then processing cocoa beans and crafting it into fantasic chocolates. She is quite famous and while we call her Roz we are sworn to secrecy about her true identity. Roz loves Santa and Christmas and participates as a news reporter with a grateful heart.