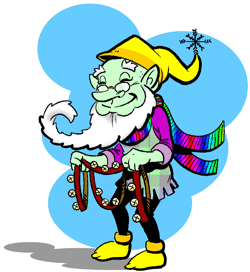 When most people think of reindeer there's usually just Rudolf and "The Big Eight" that they think about.
But actually, there are thousands — and maybe even hundreds of thousands — of reindeer that work in the service of Santa.
Elf Victor knows and cares for every one of them.
Santa's stables are a huge part of the Santa compound here at the North Pole. From all the northern countries of the world, reindeer come to the North Pole for training and assignment in Operation Merry Christmas.
Each year, Victor coordinates the Reindeer Games in which the reindeer compete as part of their Santa training.
Elf Victor is a very old elf. He is very close to Santa and he knows just about anything and everything there is to know about animals.
He is very gentle and he has a special talent for talking to them. Santa relies on his skills not only with managing the reindeer but in making use of other animals from time to time to help with things that are important to Santa.
Victor is not much of a talker with people though. He prefers more than anything else to be with the reindeer and to stay out of everyone else's way.
Elf Victor lives in a cottage near Santa's Stables with his wife Franny. They are parents to five grown children and have 23 grandchildren, 94 great-grandchildren, 243 great-great grandchildren and Victor isn't sure how many great-great-great grandchildren. When Victor isn't working with Santa's reindeer he enjoys buying birthday cards for his family.