In a sign that Santa Claus must be close to launching the sleigh we just received word that Santa's Tracking Department has issued the first bedtime warning of Operation Merry Christmas 2011. According to this data release from the tracking center, kids in the deep south pacific and in Antartica near the South Pole are encouraged now to get to bed.
I called over to Elf Billy to confirm this news. "That's the real deal," Elf Billy told me excitedly. "This is not a drill. Santa must be close to launching the sleigh if he wants these kids in bed!"
Well, it makes sense. It is Christmas Eve evening in New Zealand and early evening in places like Australia. Santa can't be delayed too much longer.
We will keep you posted. Santa should be launching before too long.
— Elf Ernest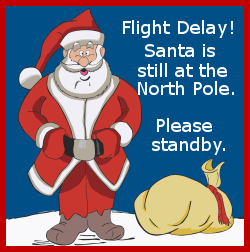 https://santaupdate.com/wp-content/uploads/2023/01/newlogo23f.png
0
0
Elf Ernest
https://santaupdate.com/wp-content/uploads/2023/01/newlogo23f.png
Elf Ernest
2011-12-24 01:00:39
2011-12-19 23:25:11
Tracking Department Issues the First Bedtime Warning