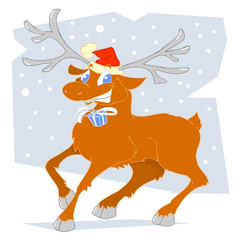 Early this morning the final event of the reindeer games was held and when the snow on the activity field settled, we had one of the closest finishes in years. With a 12th place average finish we are pleased to announce that the overall champion of the 2012 Reindeer Games is
Samuel!!!!!
I talked with Victor shortly after the games were over to see what he could tell me about Samuel and his performance in the games.
"Samuel is 5 years old and hails from the Torngat mountains in Quebec, Canada" Victor told me. "This is his third time competing in the reindeer games and we have seen a steady improvement in his performance over the years. That is actually what impressed us the most. Usually older reindeer have a tendency to lose some of their speed but Samuel has actually gotten faster. To tell you the truth, I think I'm going to send some elves down to Quebec with him this coming summer to see how he is training. Hopefully we can learn a few things that will allow us to help all of the other reindeer."
Of course we also want to honor the other winners in the games
1st Place in Speed- Jimmy
1st Place in Endurance- Freddie
1st Place in Strength- Mario
1st place in Agility- Betty
To officially close the games Santa will hold an awards ceremony this evening to present Samuel his official reindeer games winner's harness. The 4 reindeer who won each of the 4 sub categories will also be presented with a special bridle. Then after the show is over, the 5 winners will lead all of the other competitors in a lap around town to the cheers of thousands of elves until they return to the stables where Victor and his staff will have a feast of hay, carrots, bell peppers, and maybe just a few of Mrs. Claus's sugar cookies waiting on them.
-Elf Ernest
https://santaupdate.com/wp-content/uploads/2023/01/newlogo23f.png
0
0
Elf Ernest
https://santaupdate.com/wp-content/uploads/2023/01/newlogo23f.png
Elf Ernest
2012-12-11 02:20:55
2012-12-09 02:23:54
Samuel Wins the Reindeer Games