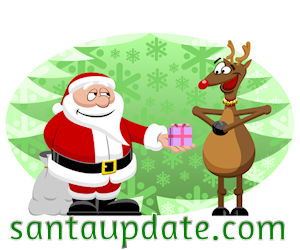 There is a new spirit of urgency here at the North Pole. It's November. That means everyone looks at the checklists a little closer and they watch the clock more intently. There is not much time left!
And that explains why elves here are feeling nervous that none of the reindeer are around yet.
Technically the elves don't need the reindeer for anything. Elves make the toys, after all. The reindeer just haul them and that service isn't needed until Christmas.
But there is just something about having the reindeer around that makes it feel like Christmas. And not having them here is making the elves feel a little blue.
And nervous.
Of course, the elves are beside themselves with the thought of what it means if the reindeer don't show up. That would be awful. After all, who would get Santa around the world?
Certainly the elves cannot. Everyone knows that elves can't fly.
But it appears the reindeer are not only on the minds of elves. Over at the North Pole Post Office we are getting reports that LOTS of children are writing in concerns they have about Santa's reindeer, too. Little 6-year-old Beckie Rollins of Texas recently wrote to the North Pole: "What if they don't show up by next month? What will Santa DO?"
I had to tell Santa about Beckie's question and her very clear concern. Santa nodded thoughtfully and then he smiled. "You tell Beckie to let Santa worry about that. Everything will be alright."
https://santaupdate.com/wp-content/uploads/2023/01/newlogo23f.png
0
0
Elf Ernest
https://santaupdate.com/wp-content/uploads/2023/01/newlogo23f.png
Elf Ernest
2015-11-06 12:00:15
2015-11-03 10:08:35
Anxiety About Missing Reindeer Grows at the North Pole