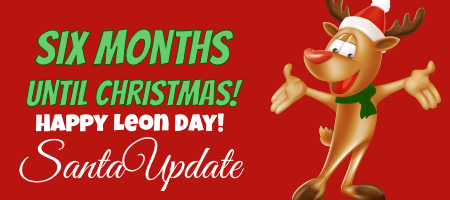 Happy Leon Day Greetings from the North Pole!
You'd think that up at the North Pole we go a little nuts for Leon Day. And it is true. We do!
Elves love the idea of celebrating the halfway mark to Christmas, which is what Leon Day is. Leon, you see, is Noel spelled backwards.
Backwards is kind of the theme of the day here at the North Pole for Leon Day. Everybody does things backwards.
We talk backwards. We walk backwards. We even wear our clothes backwards.
The day starts with dinner…and ends with breakfast.
Even the clocks run backwards on Leon Day.
It is a silly day, a day with a lot of fun and good cheer.
But it is also a serious day in a way. We know that once Leon Day is over, it's time for serious reflection on our goals and big meetings with the elves in charge about how we are doing against our targets.
Filling Santa's sleigh with all the toys and things that believers around the world want is no easy task.
And it is far too early to tell exactly how well we are doing.
But you can tell, even though the seasons have changed for most of the world, the season of Christmas at the North Pole is already in high gear.
The warehouses are filling up with things like Christmas wrapping paper and tape and bows and stuff. There are huge shipments of materials like wood and plastic and metal parts of all kinds. There are big loads of tools and hardware – nuts, bolts, nails, glues and other materials used to make things.
Of course, complicating matters is Santa's new Workshop – which we told you a little about last month.
The Glue Guys got settled in pretty well but Santa decided to move the Cutting Team over there next and that might not have been the best idea. The Cutting Team is a group of elves that spend all of their time cutting wood, metal, plastic, glass and all kinds of materials used in making toys. They are a very customized department and they are expanding their work area in Santa's workshop in a big way.
In fact, they may be the largest department physically in Santa's new workshop.
The problem is this. To be a cutting team elf you have to be really precise. Those guys know how to measure and how fit things. They work against very strict guidelines and they check and re-check everything they do because when you cut material you don't get a second chance to do it right. They have to be perfect all the time.
The problem with being perfect and always checking your work is that it can take a lot of time. The Cutting Team is a full three weeks behind schedule in moving into the workshop because they keep checking and re-checking everything before make the move. Every elf over there has been painfully slow.
This has irritated a lot of the other elves, who are very anxious to move into the workshop too.
Santa says it is no big deal. Since the old workshop is still working, Santa says no time is really lost.
But try and tell that to the Drill Team, who is the next group scheduled to move. They like to move things very fast. But nothing is moving quite fast enough for them.
Enjoy Leon Day…and be sure to be back here over the next several weeks for our Christmas in July celebrations. We have some neat announcements we will be making in the next few weeks.
https://santaupdate.com/wp-content/uploads/2018/06/062418.png
200
450
Elf Ernest
https://santaupdate.com/wp-content/uploads/2023/01/newlogo23f.png
Elf Ernest
2018-06-24 00:01:24
2018-06-22 23:01:31
Six Months Until Christmas