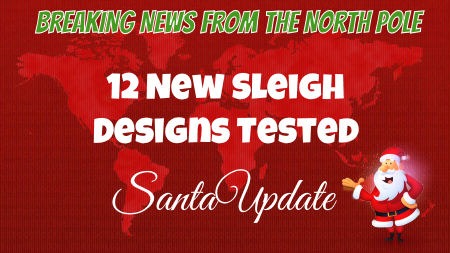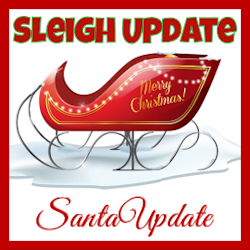 Greetings! With about 46 days to go until Santa launches a new debate has broken out at the North Pole: what sleigh design should Santa use this year?
This was never supposed to happen.
As you know, every year Santa flies a new sleigh. You see, each year Santa tries to set a new flight record and the thinking is that you don't set new records by flying in old sleighs. So Santa has a new one designed and built every year.
It is a big deal.
Santa has a team of sleigh designers that work for him year round in the Research and Development Department. They work every day of the year in designing, building and testing new sleighs. They have 12 new sleighs ready this year.
Normally this is top secret stuff. We have what they call a sleigh barn. It's not like any other kind of barn in the world. There isn't an animal in it. Only sleighs. And it is a top secret place.
But someone let the word out that Santa had 12 new sleighs and, of course, nearly every elf at the North Pole wanted to see them. After he was pestered by several to get a peek at these sleighs Santa decided, about a week ago, to just throw open the doors to the barn and let the elves who wanted to come look at them. Thousands of elves here at the North Pole have responded and the lines have been crazy.
But now it has gotten a little out of hand. Elves came with their cameras. Some have taken pictures of the sleigh and put them in the newspaper, on North Pole television and on various North Pole websites. They have been voting on favorite designs, discussing colors and such.
That's not a problem.
The problem is that now they are arguing about it.
And here's the thing: Santa is the only one who gets to decide which design to use and he will not decide until the test flights are done. Test flights have started and with each passing day the "sleigh debates" get worse.
We can see now why Santa usually keeps all this top secret.
It's early still. We are a few weeks away from the official kick off of Operation Merry Christmas. So Santa does not appear to be worried. But I am. This could be a very distracting thing. I think Santa needs to close the sleigh barn and put his test sleigh back into top secret mode.
It's Christmas. We have a lot of work to do. We don't need distractions.

https://santaupdate.com/wp-content/uploads/2019/11/110719.png
253
450
Elf Ernest
https://santaupdate.com/wp-content/uploads/2023/01/newlogo23f.png
Elf Ernest
2019-11-07 06:20:59
2019-11-07 06:16:36
A Sleigh Debate at the North Pole