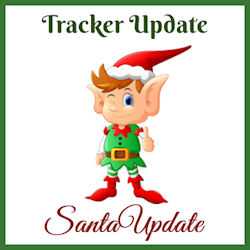 Greetings All!
There was a lot of buzz today here at the North Pole about tracking Santa. Part of it had to do with the concern about having enough Tracker Elves. As you are aware, Santa requested in July that we shoot for 20 million tracker elves this year.
Remember the reaction to that? Many here at the North Pole thought that was impossible.
As of today, we're about 3 million short of that goal, according to SantaTrackers.net. That has a few here at the North Pole saying "I told you so" and a few others even talking in worried tones.
Well, relax. Last year Santa had 12 million tracker elves worldwide. And he made a record run. So if we're sitting at better than 17 million now it is my opinion that things will be just fine.
But that's assuming we don't get any more new trackers at all — which is absurd. Last year more than 5 million were recruited in the last four days. I think that history will repeat itself.
But the bigger part of the buzz here at the North Pole is the new tracking center technology. Did you know that tracker elves online at SantaTrackers.net are already tracking? Yes, it is the test flights of Santa's Sleigh but part of those flights is to see if the system works. And it does! It's working beautifully.
If you are a registered, certified tracker elf you can see the big map NOW by clicking here.
If you click on that link and you cannot see it then you need to come be an elf for Santa.
Seriously, you'll have the time of your life.
Tracker elves are not yet officially on duty. That will come in the next day or two. On Sunday North Pole Flight Command will begin tracker elf check-in sector-by-sector. You will want to be part of that.