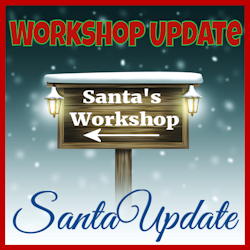 It is Monday morning at the North Pole — very early, by the way — and elves in Santa's Workshop are all hard at work.
We have been receiving a lot of questions about the workshop. In years past there have been times when the workshop continued working long after Santa launches from the North Pole.
The questions, by the way, are mostly coming from Sector 5, the final area of the world Santa serves.
So no wonder there are many questions. A workshop that has not completed its mission would be a concern to folks in the last sector.
I took up the issue with Elf Bernard who assured me that the workshop is well prepared this Christmas. He said the workshop is now in the "special projects" phase, meaning they are working only on things Santa ordered recently. These things come from last minute wishlists or from circumstances that require a change or special handling.
That's very good news for the workshop, folks. It confirms what Bernard is saying — that the lion's share of the work is done.
Elf Bernard does not say what time the workshop will be finished. He only said he expects his entire team of elves to be ready for the Christmas party at the Claus residence on Christmas Eve.
Again, another good sign that things are well at the workshop.