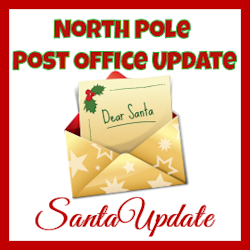 The North Pole Post Office on Santa Update is now open! We are very excited to announce the following new features never before available on Santa Update:
Shoutouts – This new feature is a quick communication for our site users who send in brief questions. It also gives us a forum to acknowledge school teachers and their classes, home school groups, Santa tracking groups and others who are looking for acknowledgement from the North Pole. Click here to submit a shoutout request and click here to see the latest shoutouts from the North Pole.
Ask Mrs. Claus – Mrs. Claus gets a lot of questions. At long last, we have a process for handling those questions and getting them answered. Mrs. Claus will be meeting with a staff from the Public Relations Department about once a week or so to answer as many incoming questions as she can. Our team in the News Department will share new features with Mrs. Claus' answers as time allows.
Make a Wishlist – This new feature actually came at Santa's request. If someone knows what they want for Christmas Santa is really wanting a list of the top five things wished for in the order of their importance. Santa feels this will help organized things better. It has taken months of project planning and coordination between departments to develop this feature and everyone is very excited to try it out.
Several other longstanding features here at SantaUpdate.com that utilize the capabilities of the North Pole Post Office have been streamlined and improved. Things like Naming Santa's Sleigh and the Ask-an-Elf features will still show on other Official North Pole websites but will be better coordinated through the Post Office to get to the proper people and departments.
There are further post office driven features that will be coming your way as this season progresses.
Our hats are off to Elf Hugo and his team at the North Pole Post Office and well as the North Pole Department of Web Development for their quick work in bringing these features to Santa Update. They will be working in coming days to tweak the North Pole Post Office functions on all other Official North Pole websites.


https://santaupdate.com/wp-content/uploads/2020/09/090820.jpg
320
845
Elf Ernest
https://santaupdate.com/wp-content/uploads/2023/01/newlogo23f.png
Elf Ernest
2020-09-08 02:00:41
2020-09-07 22:59:02
North Pole Post Office Opens on Santa Update