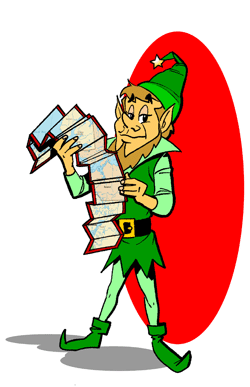 Elf Ed Zachary once worked in Santa's mailroom. So he knows the things kids write to Santa and he's heard just about every question ever asked.
Every year thousands of letters pour into the North Pole. Kids from all over write to not only request things from Santa for Christmas but also to ask questions about the North Pole.
And some people write to complain about Santa.
Elf Ed took one such critical letter a little too personal. So he wrote a reply and sent it off without Santa knowing about it. While what Elf Ed wrote was correct, the spirit in which he wrote it was, in the words of Santa, "a little sharp". But Santa saw within Elf Ed a special talent so he gave him a great responsibility — to answer the really hard questions about Santa Claus and life at the North Pole.
And since then, Elf Ed Zachary has been writing — and refuting — critics of Santa Claus and defending the merriment of the season. Click here to read many of the articles written by Elf Ed Zachary.
Elf Ed is also a logistical genius. He plays a critical part in helping to not only figure how to handle the mailroom but also to plan the production of toys in Santa's workshop. Elf Ed is the most prolific writer at the North Pole and his editing pen is instrumental in telling the story of Operation Merry Christmas every passing year.
Ed Zachary and his lovely wife are parents to seven children, six girls and a boy. Elf Ed is a baseball enthusiast and spends the off-season managing his team, the "Soggy Bottom Boys".
An avid reader, historian, and professional critic in his own right, Elf Ed has been known to be infuriating and endearing all at the same time, mostly because he insists on always being Ed Zachary right.