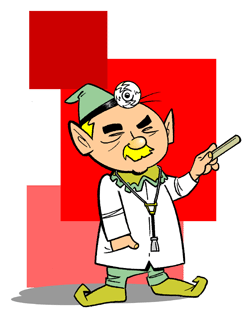 Elf Dr. Lionel P. Spock is the medical authority at the North Pole and he assures that all are healthy in the execution of Operation Merry Christmas each year.
It is a very serious role that not many people around the world think about.
A few years back, Elf Lionel was squarely in the middle of a huge concern for Christmas when folks here at the North Pole came down with a mysterious virus known as the Bah Humbug Bug, an illness that saps your Christmas spirit. Such a disease can make it difficult to get things ready for Santa on Christmas Eve.
But Elf Lionel is also a genius. He devised a special vaccination that is served as an egg nog elixir. His miracle medicine helped the North Pole combat the bothersome sickness and it saved the delivery for Santa that year.
Elf Lionel is not a native to the North Pole. He was born and raised in the United States, the eldest of four children and the son of a world-famous surgeon (he refuses to identify who this surgeon is, citing privacy concerns for his family). His father's love of medicine impressed him and from an early age Elf Lionel knew he was destined to do something important in medicine.
Indeed, aside from his duties at the North Pole, Elf Lionel serves on the boards of several medical research organizations fighting to cure diseases ranging from cancer to ingrown toenails.
Elf Lionel is a member of the Red Cross and quietly participates in medical emergencies around the globe. He lives at the North Pole with his wife of 46 years, two of his five children and his dog "Blinky".