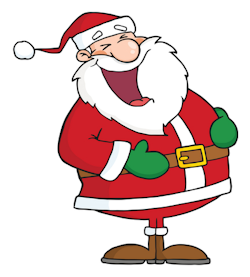 Within minutes of posting Santa's Annual Interview email sent to the North Pole starting pouring in by the thousands. Elf Hugo tells me that he will have to put six more elves into the computer room at the North Pole post office to handle all the new mail. He also expects lots of regular mail to start coming in later this week as a result of Santa talking with reporters.
"Kids love to read when Santa talks in the media and every time he does they call, write or send emails to the North Pole with more questions," Elf Hugo explained. "This will keep us pretty busy this week. It isn't like the week before Christmas but it is pretty busy for October."
Santa talked this year about a lot of things, including how reindeer fly. "That question always gets kids writing letters," Elf Hugo said. "Kids love reindeer and they want to know all about them."
I talked to Santa a little while ago — he was taking a nap — and I told him that his interview was published today (he actually did the interview a few weeks ago). Santa told me that if they kids want we can arrange either a special chat or maybe another interview just to answer questions from kids.
I think that is a good idea. Santa's interview always covers a lot of grown up questions and that is because the people inteviewing him are grown ups a lot of the time. So maybe we'll see if there is interest in that.
https://santaupdate.com/wp-content/uploads/2023/01/newlogo23f.png
0
0
Elf Ernest
https://santaupdate.com/wp-content/uploads/2023/01/newlogo23f.png
Elf Ernest
2011-10-10 02:08:46
2011-10-10 02:08:46
Mail to the North Pole Jumps after Santa's Interview Published