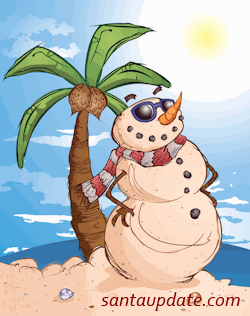 All of Santa's elves gathered this week for the annual elf convention in Acapulco, Mexico. The convention is a time for elves from all over the world to gather for training classes and seminars that teach us how to do our jobs better — and for Santa to tell us how to make Operation Merry Christmas this year successful.
We worked hard in our training sessions but it wasn't all work. We have also been known to throw quite a party during our breaks. During our breaks we headed out to the beach for some fun in the sun. Some of the elves decided to work on their tans while others had a volleyball tournament. The volleyball was short-lived because the net was too high. But when Elf Max found a crank on both sides of the net he lowered it and before long we found ourselves in a fierce contest of limbo. After Elf Lilly won that game with the net down around 18 inches THEN we were able to play a pretty fun game of volleyball. Even Elf Grumbles could spike it at that height.
Elf Quinton and his staff though decided that they were going to go cliff diving to help them better understand the aerodynamics of an elf's body. He assured us that it would help him design a faster sleigh this year.Some of us got the idea that the research Quinton and his team was doing would be more realistic if it were raining so we found a hose and got some super soakers to simulate rainfall as they took turns diving off the cliff. Even Santa go into the act by diving off in what he called the world's "highest and biggest cannonball". Mrs. Claus didn't like that and only let him do it once. It was awesome. Santa made a splash that covered nearly 30 feet of shoreline.
The convention, as it always does, was over too soon. Most of the elves will be back at the North Pole later today or tomorrow. We have a busy weekend ahead as Elf Wally is teaching another workshop here at the North Pole about tapeless wrapping — a new procedure he wants to try this year. It sounds really interesting and we think a lot of elves will be attending.
We have the annual North Pole Halloween party next week — be sure to check back with us then to read all about it!
— Elf Ernest
https://santaupdate.com/wp-content/uploads/2023/01/newlogo23f.png
0
0
Elf Ernest
https://santaupdate.com/wp-content/uploads/2023/01/newlogo23f.png
Elf Ernest
2011-10-28 00:28:06
2011-10-28 00:28:06
Annual Elf Convention Held in Mexico