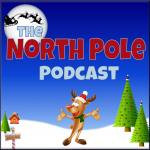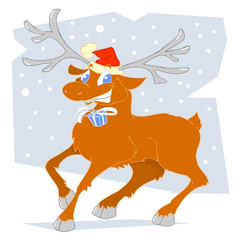 The reindeer games continue at the North Pole as Santa's crew works to get everyone ready to fly on Christmas Eve. The games are as much about getting ready as they are about fun. For a reindeer to fly for Santa he has to be in the best shape possible.
I checked in with Elf Victor this morning to see how Cupid's recovery is coming along. If you recall, Cupid suffered a slight injury recently.
"Cupid is doing great" Elf Victor told me. "The crack in is hoof is growing back together and there has been no signs of infection with it. He has been walking on it just fine and hasn't been favoring that leg at all. Cupid should be good to start training again in another week."
"The one that has me worried right now is Blitzen." Elf Victor said. "He just hasn't been himself recently. He usually eats all of his oats and the last couple of days he hasn't been eating very much at all. He's also been a bit cranky. He normally will let any of the staff pet him and he loves to get his fur brushed. Today he has been hiding at the back of his stall and kicks at anyone who comes near him. I got him to calm down enough to take his temperature but its right where it should be. He doesn't show any signs of the Bah Hum Bug virus so I don't think that's it. I isolated him away from the other reindeer before I came over here just in case. Elf Dr. Spock is working with him right now and hopefully he can figure out what's going on soon." Elf Victor also said he planned to call Santa about it tonight.
In other news, Elf Quinton is still working on Santa's sleigh. He had it in pieces in his workshop trying to figure out why it has problems staying upright with more reindeer hitched to it. It is driving him crazy but he thinks there is still plenty of time before Christmas Eve to get it worked out. And the team that works on the finishing touches to the sleigh is right now in the process of tuning Santa's new bells. For more information on that, listed to the report from Elf Rusty Belz in the link listed below.
— Elf Ernest
Click here to listen to the latest broadcast from the North Pole Newsroom by Elf Rusty Belz
https://santaupdate.com/wp-content/uploads/2023/01/newlogo23f.png
0
0
Elf Ernest
https://santaupdate.com/wp-content/uploads/2023/01/newlogo23f.png
Elf Ernest
2011-12-13 02:00:36
2011-12-12 19:45:55
Reindeer Games Reveal Some Surprises, Work Moves Forward on Santa's Sleigh