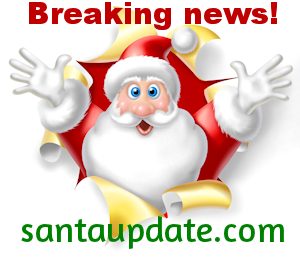 Hi-ho everyone! Merry Christmas in July!
Folks all over the world are celebrating Christmas in July this week. Some hold parades, some sell things, some raise money for charity, others just like to break up the year with some Christmas music or holiday treats. And we're no different.
We invite you to join us on Kringle Radio beginning Thursday, July 23rd for a rebroadcast of our live radio coverage of Santa's flight last year. For more than 50 hours we played music and provided regular news updates from the newsroom here at the North Pole. These updates not only gave Santa's position as he traveled around the world but they told the story of Santa's launch and the work of all the elves and reindeer on Christmas Eve. We had live radio updates from elf spotters stationed around the world and even regular flash news from the North Pole Christmas Party while Santa was in flight.
You might have missed it because you were busy celebrating Christmas with your family. Now you can hear what you missed! This one-time rebroadcast is sure to put you in the festive spirit. It's a great way to get ready for Christmas.
So tune in to Kringle Radio and hear the voices of many here at the North Pole that you know through SantaUpdate.com — including Santa himself (yes, he spoke to us from the sleigh last year while in flight — a first!).
The broadcast begins at 6am Thursday, July 23rd and runs with news updates EVERY 15 MINUTES until early Saturday morning, July 25th.
— Elf Ernest
https://santaupdate.com/wp-content/uploads/2023/01/newlogo23f.png
0
0
Elf Ernest
https://santaupdate.com/wp-content/uploads/2023/01/newlogo23f.png
Elf Ernest
2015-07-21 19:42:07
2015-07-21 19:43:51
Celebrate Christmas in July with Santa