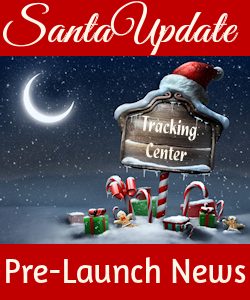 Hey everyone!
Every department here at the North Pole is working with all speed at this hour as the time is quickly ticking down until Santa launches from the North Pole.
Tracking of Santa goes live on Kringle Radio in just 19 hours – you won't want to miss that.
But for all the activity here at the North Pole everyone is still extremely nervous.
After all, what happens if Santa's launch time comes and there are no reindeer to launch the sleighs with?
That would be pretty embarrassing.
— Elf Ernest



Click here to Visit the Tracking Center ~ Click here to Track Santa by Text
North Pole Weather: -10 degrees F, Light Snow **BLIZZARD WARNING**
Hours until LIVE Radio Broadcast News begins on Kringle Radio: 19 hours



Click the player below to listen to the latest broadcast from North Pole Radio News: