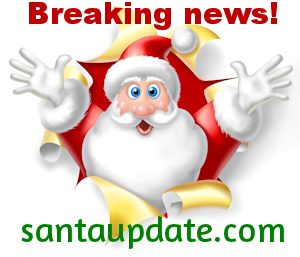 Greetings!
Christmas eve is just 5 months from now. WOW! Go crazy!
You might be involved in a lot of un-Christmas-like activity right now. It might be hard to think of making snowballs or hanging stockings where you are but here at the North Pole we're up to our necks in Christmas.
You see, it's summer for us but we found the North Pole Community swimming pool filled with an odd looking liquid the other day and at first everyone was afraid to even go near it. Then, when they said it was filled with eggnog, you should have seen the rush to jump into the pool!
Yes, we emerged from it a big sticky mess but it was such a cool idea that nobody seemed to think about it. Everyone just jumped in.
Well, it's been drained now and everyone had a good time – but now everyone wants to know: who did it?
Santa is actually a little unhappy about all that wasted eggnog, to tell you the truth. It's not like that stuff can be put in a bottle again and served at the table, you know?
But that's another part of the mystery.
Where did anyone get enough eggnog to fill the pool? And how did they fill the pool with eggnog without getting caught?
This is like the 2nd or 3rd epic prank pulled here at the North Pole this year.
This Mystery Prankster, whoever he might be, is quickly becoming a hero at the North Pole.
But nobody will admit to being the one doing this stuff.
North Pole police are now investigating.
https://santaupdate.com/wp-content/uploads/2023/01/newlogo23f.png
0
0
Elf Ernest
https://santaupdate.com/wp-content/uploads/2023/01/newlogo23f.png
Elf Ernest
2016-07-24 03:00:07
2016-07-23 22:31:08
5 Months to Christmas