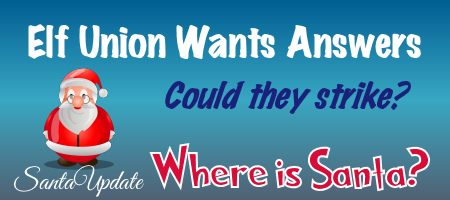 Greetings everyone!
A surprise today at the quarterly meeting with representatives of the Elf Union — they presented Elf Bernard, head of Santa's Workshop, with a letter demanding answers about Santa's "disappearance" from the North Pole.
Elves have organized in recent days to explore their options in helping to find Santa and restore order to the North Pole.
While no implicit threat of an elf work stoppage has been mentioned the words "organizing" generally mean that someone is upset and that they want to stop working in order to get something. The "something" the elves clearly want is to see Santa come home from wherever he is.
Elf Bernard immediately took the letter to Mrs. Claus' office and she has called together an emergency meeting of Santa's Council.
Santa's Council is the board of department heads at the North Pole. They will determine how to respond to this latest development.
Frankly, I am surprised the Elf Union has taken such drastic action. In fact, I'm wondering why anyone would be upset at all.
After all, it is only the end of August.
Santa told us he was leaving.
He said he would be back.
And has he ever failed to do what he says?
No.
So what's the big deal?
None of these things seem to be important to many here at the North Pole. Many, many people here are uncomfortable with the idea that Santa is gone and that no one knows where he is. They are uncomfortable with the idea that nobody has heard from him since July 25th. They just don't like it that not even Mrs. Claus can call him and talk to him.
They want to know that Santa is okay. They want to know that Santa is at work on Operation Merry Christmas. And they want to know that nothing will derail plans for Christmas.
This week at the North Pole Post Office the mail has been pouring in from concerned people everywhere. Even though I've told you several times not to worry, you worry anyway.
I fear that if Mrs. Claus and the head elves cannot figure out a way to calm everyone down we will have real problems at the North Pole and will fall behind in our work just as we're supposed to be picking up speed.
We need some quick thinking. We need some quick action. We need SOMETHING to get everyone to calm down and just go with the flow.
When I know more about what we're going to do, I'll post a new report.
https://santaupdate.com/wp-content/uploads/2017/08/083117.png
200
450
Elf Ernest
https://santaupdate.com/wp-content/uploads/2023/01/newlogo23f.png
Elf Ernest
2017-08-31 00:25:08
2017-08-30 20:37:26
Elves Organizing, Upset about Santa