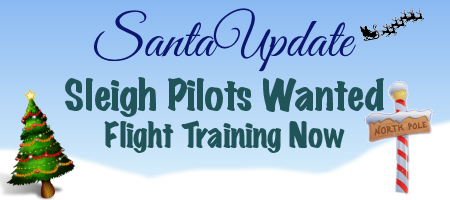 Hi everyone!
Good golly, what a difference a day makes!
I said that we needed to take some quick action and it appears Mrs. Claus has done just that.
Mrs. Claus announced today that the North Pole would need "an unlimited amount" of new sleigh pilots trained for the upcoming season.
That announcement touched off a frenzy.
There is hardly an elf I know who does not want to be a sleigh pilot.
To drive a sleigh like Santa with flying reindeer is a dream to most of us. Even I signed up for flight school, even though I am pretty sure I will never be selected to pilot a sleigh.
With that one announcement the concerns of the Elf Union were squelched. All anyone can talk about it getting trained as a sleigh pilot. Many think that if they can get trained quick they could use all these new sleighs to get out there and find Santa.
Flight school is packed.
Elves plan to work by day and go to flight school by night.
At first it is all classroom stuff – you know, math and science and technical stuff like wind speed and aerodynamics. But I was told that rookie sleigh pilots should be able to begin their first test flights "in about a month".
So many elves are responding to the call for flight school that real sleigh pilots like Elf Vernon will be working double shifts to conduct classes.
There is one thing that is bothering me about this though – and this is the newsman inside of me talking now: why does Santa want all these new sleigh pilots?
I will try to get to some answers. Surely Santa doesn't need pilots for him to find his way home. He must have something else in mind.
https://santaupdate.com/wp-content/uploads/2017/08/090117.png
200
450
Elf Ernest
https://santaupdate.com/wp-content/uploads/2023/01/newlogo23f.png
Elf Ernest
2017-09-01 00:01:43
2017-08-30 20:50:25
Flight School for Elves Packed