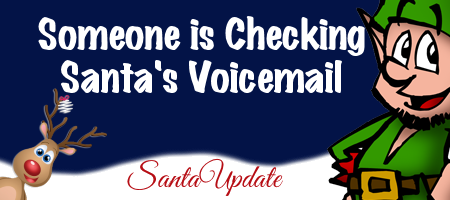 Hi everyone!
Some interesting news for you today.
You may or may not have noticed that over at JingleKringle.com – another merry site run by the North Pole – we have added a new feature.
You can now call Santa directly at his office at 1-866-84-SANTA. It is toll free and anyone can leave Santa a message.
Of course, Santa's not here.
But I was talking Santa's Chief of Staff, Elf Harold, who takes care of things in Santa's office all the time.
He told me that since publishing the number the phone rings almost constantly and there are a LOT of messages for Santa.
Harold said he's a little worried because Santa is the only one with the password and he's not sure how many messages his machine can handle.
So he checks it every day.
He told me that when he checked it today there were only a few messages on there. Someone has been checking Santa's messages!
Is it Santa…or has his voice mail been hacked?
Harold said it happened sometime during the night last night.
He did report it to North Pole Security.
Elf Agent X and his team are examining the phone records to see if they can tell who checked the messages and where they called in from. It may take them a few days to figure it out.
Who do you think it was?
https://santaupdate.com/wp-content/uploads/2017/09/090217.png
200
450
Elf Ernest
https://santaupdate.com/wp-content/uploads/2023/01/newlogo23f.png
Elf Ernest
2017-09-02 01:19:32
2017-09-01 23:28:41
Is Santa's Voice Mail Hacked?