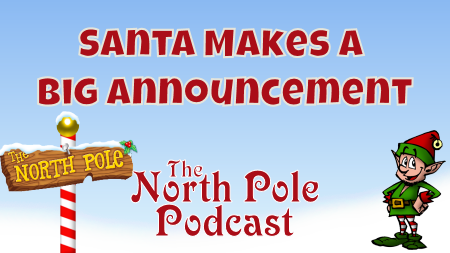 A short time ago Santa finally made the big announcement we've been anticipating for over a week now. You can listen to how that all unfolded here at the North Pole via a special edition of the North Pole Podcast, heard right here on SantaUpdate.com.
Santa wanted this announcement first to go to the elf community at the North Pole. He did that because it will be the job of the elves to meet a new goal Santa has set for this year.
Santa wants to have a total of 20 million tracker elves this Christmas Eve. That means 20 million elves tracking Santa around the world for Santa. This is, I think, our fourth year of recruiting elves from the general public for this purpose.
Tracking Santa for Santa is a way anyone can join the Santa effort. Literally anyone these days can be an elf. What Santa needs are elves in their homes tracking him around the world and reporting local conditions to the Flight Command Center at the North Pole.
As you might remember, last Christmas was Santa's fastest and smoothest flight on record. He beleives that was because he had a total of about 12.5 million elves in locations world wide reporting local information to Flight Command. There literally was nothing to stop Santa because so many elves were looking out for him.
He wants more elves this year.
So click on the link above to hear about the announcement, then head on over to SantaTrackers.net so that you can become an elf for Santa this year!

https://santaupdate.com/wp-content/uploads/2019/07/072719.png
253
450
Elf Ernest
https://santaupdate.com/wp-content/uploads/2023/01/newlogo23f.png
Elf Ernest
2019-07-27 12:21:30
2019-07-27 12:20:02
North Pole Stunned By Santa's Announcement