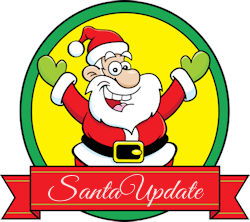 Some tough news today, folks. Donner, one of Santa's most experienced reindeer, suffered a devastating injury during a high jump event at the Reindeer games.
As Donner was nearing the end of his run — he was attempting to set a record — he came down hard on his front legs and landed awkwardly. He appeared to have suffered the equivalent to a twisted ankle in both legs. He immediately went to the ground and did not get back up.
Trainers rushed to his side and he was taken off the field of competition on a stretcher.
Santa was notified immediately of the event. He has called regularly to get a status report on Donner's injury.
We are still two weeks away from Christmas. Donner is one of Santa's lead reindeer. There is concern at this point as to whether Donner can recover in time to fly with Santa this year.
I spoke with Elf Victor just minutes ago. He said it is too soon to speculate what will happen.
There is a plan in place, of course, should any of Santa's regular team of reindeer fall to sickness or injury. Someone would take Donner's place if Donner cannot go.
Donner is a very strong, proud reindeer. He has worked for Santa for hundreds of years. He has won the Reindeer games more often than I can count. This injury has to be very hard on him. I plan to go see Donner when the doctors say it is okay to see him. I can imagine how badly he feels right now.
While Donner's injury is not something that anybody is happy about there are elves and reindeer who see this situation as one of opportunity. Clearly Donner will not be able to complete the games. That means the competition just became more intense because Donner is not there to compete against. Who will step up? Can any other reindeer beat the rest of Santa's regular team?
Rudolph is still doing very well. Blitzen and Comet are also in the running. There is one particular young reindeer named Captain Envious that continues to do well and is being watched by many.
We will keep you posted.