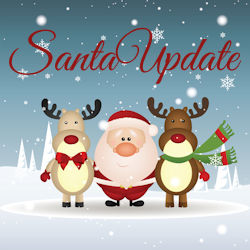 There have been some early surprises at the Reindeer games. Rudolph leads in overall points and he looks very strong to most experts here at the North Pole.
I spoke with Elf Victor, head of the Reindeer Department, and he told me that Rudolph spent a great deal of time during the off season at a high elevation ranch in the Canadian Rockies. The ranch is actually one of Santa's properties where reindeer are trained year round. It is not like a vacation resort. Serious work happens there.
Victor said that Rudolph returned to the North Pole in September about 35 pounds heavier and all of it is muscle.
Rudolph is actually quite a small reindeer compared to many of the others. For many, many years he just could not compete in all the events at the same level as, say, Donner or Blitzen. But over the decades he has improved and he has been a serious player for many years. He has won the Reindeer games only twice, however.
Some are thinking he could win it all again this year.
The reindeer games still have several days to go. There are many events yet to take place. But Rudolph is off to a very fast start.
We will keep you posted.