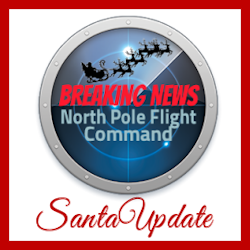 Hi all!
While most of the world waits to track Santa when he launches there are elves-in-training who are using the last test flights of Santa's sleigh to hone their tracking skills.
As reported at North Pole Flight Command there are test flights over Europe today. That data shows on the map at SantaTrackers.net, the special elves-only website made for those trackers who track Santa for Santa.
This is excellent news for the Tracking Department at the North Pole. All year long they have waited as a new Tracking Center was constructed. They have been in that facility now for just a few weeks, so they are trying to get all the bugs worked out before Santa launches.
Trackers worldwide are following along with the test flights and are sending in reports as the Tracking Department requests. Santa officially sent his first report request to tracker elves yesterday and they have responded in a big way. As of the time of this writing more than 10 million tracker elves have sent in a roof inspection report from their neighborhoods.
So elves in the Tracking Department are very excited. The system is working very, very well so far.
There will be breaking news this weekend, most of it coming from the Tracking Department.
We hope you stay with us!