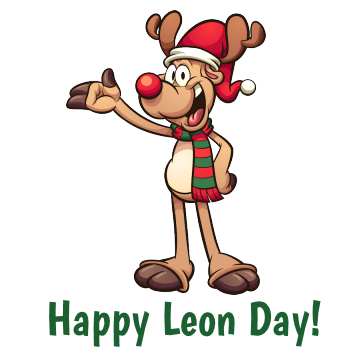 The North Pole celebrates Leon Day today marking the halfway mark to Christmas. Leon, as you know, is noel spelled backwards. That tiny little insignificant fact has unleashed a brutal tradition at the North Pole than tries the patience of nearly anyone trying to get things done.
You see, since noel is spelled backwards on this day someone thought it would be a good idea to do everything else backwards on the day. In traditional elf fashion we have seen it go to a crazy level as elves here dress backwards, walk backwards and talk backwards.
In fact, everything is backwards. Dinner is eaten first, breakfast last on this day. Elves try to do their jobs backwards. They walk their dogs backwards. Everything is backwards today!
To some it is all a bit much – too much. Including me. I tend to just stay in my office on days like today.
There are some "normal" activities on this day of halfway to Christmas. There's a big luncheon over at the Rec Center. It's always a fun event until someone breaks out the accordion and the bagpipes to play Christmas songs backwards.
The races are a fun part of the day I have to admit. Yes, they are done backwards but that's actually what makes the races so cool. There's a three-legged race, the 500-yard dash (which nobody can really win running backwards) and there is the Weenie Head Race.
What's a Weenie Head Race? It's putting a hot dog on your heard and then racing backwards through an obstacle course. The point is to keep the weenie on your head while trying to run backwards through a course filled with steps, blocks, and puddles of water. Everyone ends up laughing because nobody can actually do it. This is the one race at the North Pole that no one has ever won.
In all its a silly day.
But in one respect it is a special day. It is the gateway to the Christmas in July celebrations at the North Pole and really the first sign that we're closer to Christmas than away from it. It makes everyone happy.
Wherever you are we wish you a happy Leon Day!

https://santaupdate.com/wp-content/uploads/2021/06/062521.jpg
320
845
Elf Ernest
https://santaupdate.com/wp-content/uploads/2023/01/newlogo23f.png
Elf Ernest
2021-06-25 00:01:51
2021-06-24 21:56:49
North Pole Celebrates Leon Day