The North Pole Halloween party is coming up soon and party planners are busy putting everything in place.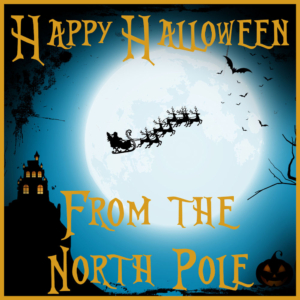 As is our tradition the party will be held at the North Pole Community Center. This is one of the biggest parties of the year and it takes a lot of planning to get everything ready. Details you would not believe have to be attended to.
For example, before a single table or chair is set up the entire place needs to be made "water proof".
It is not that there will be a lot of water used in the event but they will use a lot of water to clean up from the event. The Halloween Party at the North Pole features a traditional food fight at its conclusion. It gets rather messy.
So before anything is put together in terms of decorations or foods, there is a big discussion about the clean up. It gets so messy that it takes an army of elves to clean up from it.
So they will figure out what art to take off the walls and what nice furniture they want to put in storage before the event even starts. Then they will need to decide where to hang the plastic, how many garbage cans to bring in, and how many elves it's going to take to clean it all up.
Of course, Mrs. Claus' kitchen is hard at work making the weapons of food fight war. There will be pies, cupcakes, sticky drinks and gooey desserts all perfect for throwing, wasting and making a mess with.
Party planners also have to deal with details common to Halloween parties. For example, all guests will be in costume. And, elves being elves, some of those costumes are going to require power. There will be extension cords and battery recharges set up to help costumes requiring power to stay in use all night long. Those items, like everything else, will need to be protected from the antics of the food fight.
It's all very complicated.
As for us here in the News Department we have things to prepare too. We know, for example, that we will do a live radio report this year from the event. That means hauling all of our equipment over there and then making sure it too is protected from…uh, the elements.
It's a lot of work. But it is a lot of fun too.

https://santaupdate.com/wp-content/uploads/2021/10/102221.jpg
320
845
Elf Ernest
https://santaupdate.com/wp-content/uploads/2023/01/newlogo23f.png
Elf Ernest
2021-10-22 00:04:03
2021-10-19 12:52:01
Preparing for the North Pole Halloween Celebration