Santa has named the reindeer who will be flying him around the world when he launches later this week.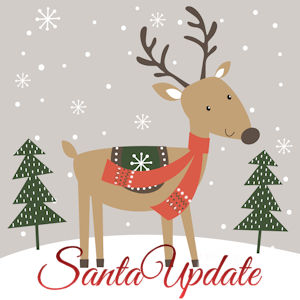 As the North Pole Radio News report above says, there are no surprises. They are:
Rudolph
Dasher
Dancer
Prancer
Vixen
Comet
Cupid
Donner
Blitzen
However, not many people know about this process. Some see it as a mere formality that just happens automatically every year.
But Santa takes this very seriously and, obviously, so do the reindeer. You see, in the world of reindeer, there is no higher honor than flying for Santa. That have to earn that honor every year. It is NOT an automatic thing.
The first thing they have to do is to apply. That's usually done by their managers by the month of February.
One they have applied they have to pass a physical. Then they have to go to specialized reindeer training. Yes, even if they have done it before, they still have to do it.
When they return to the North Pole they have to compete in the Reindeer Games. The games are where they must qualify in specific athletic events that set what they call "markers". Markers are levels of performance needed to fly on Santa's team.
There are thousands of reindeer who compete in the games. Most of them never qualify because they can't hit the markers.
Winning the games does not mean you make Santa's team either. For example, this year's Reindeer Games winner, The Mighty Mick, does not fly with Santa. He does win a special assignment but he didn't make Santa's starting team.
Will he be on a backup team?
Maybe. Or maybe he'll do something else.
The fact the reindeer are the same year after year is actually proof of how special these reindeer are. They not only fly Santa every year, they qualify to fly Santa every year. That's a special, special thing.

https://santaupdate.com/wp-content/uploads/2022/12/122122.png
320
845
Elf Harold Star
https://santaupdate.com/wp-content/uploads/2023/01/newlogo23f.png
Elf Harold Star
2022-12-21 00:02:21
2022-12-20 21:46:04
Santa Officially Names His Starting Reindeer