Tracker elves around the world are checking in, ready to track Santa for Santa on this "day before the day before the day before", as Elf Frank Myrrh says in the North Pole Radio News report above.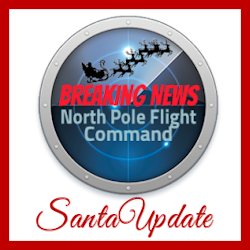 This is an important marker. If you are not paying attention you could well miss some of the biggest moments in tracking Santa – such as when Santa launches.
That great event is preceded by the launch of the Tracking Santa Around the World Radio Show, which comes from the studios of Kringle Radio.
You can listen to Kringle Radio for free by clicking on the link above or via the players on any Official North Pole Website.
That radio show kicks off at 5am EST on Friday, December 23rd.
Why?
Because that's when Christmas Eve dawns in the far reaches of Sector 1 – in the deep South Pacific.
This worldwide broadcast event is picked up by radio stations around the world. It is heard in 150 countries. It is where the world tunes in to track Santa.
The show features elves, trackers, and newsmakers who follow Santa in every part of the world.
The tracker elves who are checking in right now are not fans of Santa just wondering where Santa is. They are elves. They work for Santa. Their job is to track Santa FOR Santa. They help him get around the world. They report local conditions to North Pole Flight Command so that Santa remains safe and can do his job quickly.
The Tracking Santa Around the World Radio Show tells their story, it forwards bedtime advisories from Santa, and it helps you to know where Santa is and what Santa is doing.
So the trackers checking in right now is a big deal for you. It's the first of a thousand steps in bringing Operation Merry Christmas to a happy conclusion. The fun is about to begin.

https://santaupdate.com/wp-content/uploads/2022/12/122222-000.png
320
845
Elf Ernest
https://santaupdate.com/wp-content/uploads/2023/01/newlogo23f.png
Elf Ernest
2022-12-22 00:01:42
2022-12-21 17:55:46
Tracker Elves Checking In